Some of Lucinda Roy's Upcoming Appearances
Bookmarks Festival of Books & Authors, Winston-Salem NC, Sep 24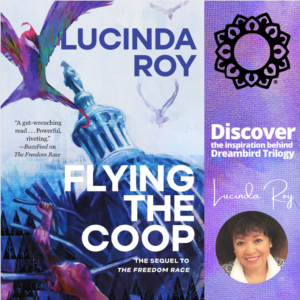 Flying the Coop is out now.
I didn't want to write about why the caged bird sings;
I wanted to write about how the caged bird flies. 
Volume II in the The Dreambird Chronicles Trilogy
Vox Humanities' Sylvester Johnson interviews Lucinda about The Freedom Race, race and racism, and a future Disunited States.
Lucinda Roy writes about what it as like  to draw persona maps for The Freedom Race
Adjoa Andoh of the RSC and Bridgerton fame is the narrator for The Freedom Race
This second volume in Roy's Dreambird Chronicles (after The Freedom Race, 2021) broadens the political scope of the narrative while keeping the focus on the three young protagonists. Ji-ji, Afarra, and Tiro encounter belligerence, violence, systematic oppression, deliberate ignorance, and death at nearly every turn. What carries them forward are seeds of hope, anger, and history and the belief that they can force change. With strong connections to current events and an unflinching look at how things could be, Flying the Coop is an essential read. —Booklist (starred review)

As harrowing as it is gripping, this will leave readers anxiously awaiting the series finale. —Publisher's Weekly

"Every now and then a work comes along that makes you wonder whether you are reading or dreaming. And you're not sure it matters which."—Nikki Giovanni

"If 'resilience' was a book, it would be The Freedom Race. It has a prescience about it in the tradition of Octavia Butler." —Maurice Broaddus

"American magic-realism meets the outcome of the Second U.S. Civil War in a well-told, brutally jolting, strangely prescient, and soul-haunting narrative."—L. E. Modesitt, Jr., bestselling author of the Saga of Recluce series

"Roy's comprehensive worldbuilding and immersive language creates a tapestry that blends realistic fantasy with the Black experience in the United States…. Ji-ji's journey is a story of resilience and hope rooted in a place where Octavia Butler and Rivers Solomon intersect with The Handmaid's Tale."—Booklist

This gut-wrenching read takes place in a near-future United States where white people once again enslave African Americans….This powerful, riveting novel provides a glimpse into a nightmarish future that's all too similar to our past.–Buzzfeed (A pick for Buzzfeed's "Best Books of July 2021.")