THE FREEDOM RACE 
VOLUME I of THE DREAMBIRD CHRONICLES

 
In this broken world of the future, "dreams are promises the imagination makes to itself," and the gospel of flight is the boldest dream of all. 
LIVESTREAM LINK to Lucinda Roy's reading at the Moss Arts Center, Virginia Tech with MFA student Bessie Flores Zaldivar on Th Nov 4 at 7 PM

Listen to Lucinda speak with other speculative fiction writers at the Boston Book Festival
Every fantasy world needs a map. But what happens when the map needs to come from the hands of the characters you've written? 
Adjoa Andoh of the Royal Shakespeare Company and Bridgerton fame is the narrator for The Freedom Race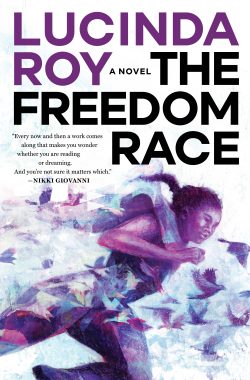 "Every now and then a work comes along that makes you wonder whether you are reading or dreaming. And you're not sure it matters which."—Nikki Giovanni
"If 'resilience' was a book, it would be The Freedom Race. It has a prescience about it in the tradition of Octavia Butler." —Maurice Broaddus
"American magic-realism meets the outcome of the Second U.S. Civil War in a well-told, brutally jolting, strangely prescient, and soul-haunting narrative."—L. E. Modesitt, Jr., bestselling author of the Saga of Recluce series
"Roy's comprehensive worldbuilding and immersive language creates a tapestry that blends realistic fantasy with the Black experience in the United States…. Ji-ji's journey is a story of resilience and hope rooted in a place where Octavia Butler and Rivers Solomon intersect with The Handmaid's Tale."—Booklist
This gut-wrenching read takes place in a near-future United States where white people once again enslave African Americans….This powerful, riveting novel provides a glimpse into a nightmarish future that's all too similar to our past.–Buzzfeed (A pick for Buzzfeed's "Best Books of July 2021.")